- our digital simulators support teamwork from anywhere, anytime
VR training has been recognized as a cost-reductive and flexible training solution during the last decade. However, most VR training solutions implemented so far have only supported single-player sessions.
No matter how immersive digital simulations are designed, the full potential of VR training will only be reached if you are provided an opportunity to collaborate and interact with your colleagues.
We are social animals - and we learn best together.
Multi-player platforms are the future
Undoubtedly, the social aspect is one of the key reasons VR technology is so groundbreaking as a training solution. Therefore, multi-player support has been the central focus in developing our Virtual Training Platform.
The Virtual Training Platform allows up to 15 colleagues to communicate and collaborate on the complex procedures in each session.
In addition, multiple sessions and breakout rooms can run simultaneously while the trainees are physically situated in different parts of the world.
From classroom to hands-on teamwork
Usually, the training sessions consist of several virtual settings to accommodate the different learning objectives. First, trainees gather in a briefing room represented by their avatar, where the instructor presents the agenda for the training session and goes through procedures.
Following this, the trainees will have the opportunity to get familiar with the different tools, instruments, and Personal Protective Equipment (PPE) they will use during the hands-on training with other team members.
In general, we seek to build on more and more complexity in the training sessions to avoid a too steep learning curve.
In the initial design phase, we also try to implement the optimal frustration for the trainees and include different gamification elements to accommodate various learning objectives.
Bring a colleague and stay longer
From our experience, it usually takes about 10–15 min to adjust to VR and get used to the immersive surroundings. However, it is not unusual to feel slight motion sickness initially. Even if you experience VR motion sickness first-hand, do not give up hope. You quickly get used to VR and overcome VR-induced motion sickness altogether.
It is very individual how long you can stay in VR, but as a rule of thumb, we suggest you use the VR headset for about 45–60 min and then take a 15 min break before jumping back in.
But as with most activities in life, if we do it together with others, time can feel like it's flying. And we see the same thing with VR training. So don't feel pressured to break up a session that is going well.
Unleash the full potential of VR
One of the key assets of our Kanda Virtual Training Platform is the increased opportunity to communicate and collaborate with people in remote locations.
Gone are the tedious self-studies where trainees need to memorize an abundance of technical reports and detailed descriptions of Standard Operational Procedures (SoP) on their own.
Kanda's Virtual Training Platform allows trainees to see, talk and work together as a team - no matter where in the world and how many they are.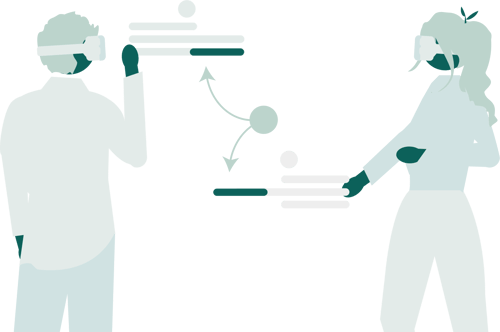 Thanks for staying
Where to next?