The Virtual Training Platform
The Kanda Virtual Training platform enables companies to create complex, real-time, collaborative training simulations on multiple devices. These simulations incorporate hundreds of steps, thousands of interactive 3D models, and millions of configurations to effectively replicate the complexity of real-world scenarios.
Human Centered Technology
Virtual reality bridges the digital and physical worlds, introducing new opportunities for immersive experiences.
We believe that the metaverse — the intersection of digital and physical — offers revolutionary opportunities for engaging and meaningful educational experiences.
VR technology allows you to move around, explore, listen to, and interact with information in ways that presentations and videos could never do.
A Revolution in Training
With a VR headset trainees can learn at home or at their normal office. The multi-user Kanda platform allows them to see, talk, and work together as a team, no matter where in the world they are. This is a revolution in training.
We no longer have to frontload trainees with intense amounts of learning in a short period of time. They can learn what they need to know in an environment that supports exploration and failure, improving long-term knowledge retention. They can review the material at their leisure to refresh their memory, and easily re-certify as needed. For more in-depth information about how spacing lessons out increase long-term learning you can find the research paper here.
Sustainable Training at a low cost
On-site training for heavy industries is both financially and environmentally costly. By replicating training sites in VR, you can reduce the manufacturing and energy costs associated with building, maintaining, and upgrading training equipment.
The VR training developed by Kanda can reduce the environmental impacts of trainee travel, allowing them to learn from the comfort of their homes instead of flying to distant training sites.
Scope 1, 2 and 3 Emissions
Depending on your training set-up and how much you use our platform, we can help you reduce:
Scope 1: Reduce materials needed to produce training units.
Scope 2: No longer heat/cool/electrify your training centers.
Scope 3: Reduce training-related travel to and from the physical sites.
You can use the ICAO calculator to assess your organization's CO2 emissions associated with training-related air travel.
You can access the calculator here.
We are in the process of certifying the average CO2 emission reduction based on customer case studies. These validated numbers will show the true greenhouse gas savings to support accurate reporting and prevent greenwashing.
Not everyone has a headset
Tablets
Ideal for a quick refresher whenever and wherever you need it.
Virtual Reality
VR headsets are the most immersive tool, and the preferred method for learning.
Computer
The laptop is still the main tool for many, and naturally you can use this to access our platform.
All the benefits from Virtual Training - just to mention a few...
Gamification
There are no passive observers. Trainees will engage, interact, and be challenged to perform tasks.
Gamification
Multiple devices
Access training anytime, anywhere, using virtual reality, tablets, or computers.
Multiple devices
Certified training
We work with certifying bodies to create real-world equivalent training that meets international standards.
Certified training
Secure platform
We support integration to you existing SSO solution and work with industry experts to harden our security.
Secure platform
Multi user
Bring up to 15 people together in the same virtual environment to collaborate, discuss and share experiences as a team.
Multi user
Complex simulations
Kanda simulations can include hundreds of steps, thousands of synchronised components, and millions of interactions.
Complex simulations
3D avatars
Your avatar follows your head and hand movements to convey where you are and what you're doing. This allows for an intuitive teamwork experience.
3D avatars
Directional audio
Directional audio supports an immersive experience. It's easy to distinguish whether a voice is coming from a colleague to the left, or the instructor behind you.
Directional audio
Persistent spaces
VR spaces can be set-up just the way you like. Your situation room can be filled with pictures, reports, and presentations that mirror a real room.
Persistent spaces
Case Studies
Explore how our clients have incorporated VR training
Getinge's Virtual Hospital
Explore how the Getinge Virtual Hospital revolutionizes the medical sector
Getinge's Virtual Hospital
Siemens Gamesa's VR Turbines
Learn how Siemens Gamesa uses virtual reality in the training departments
Siemens Gamesa's VR Turbines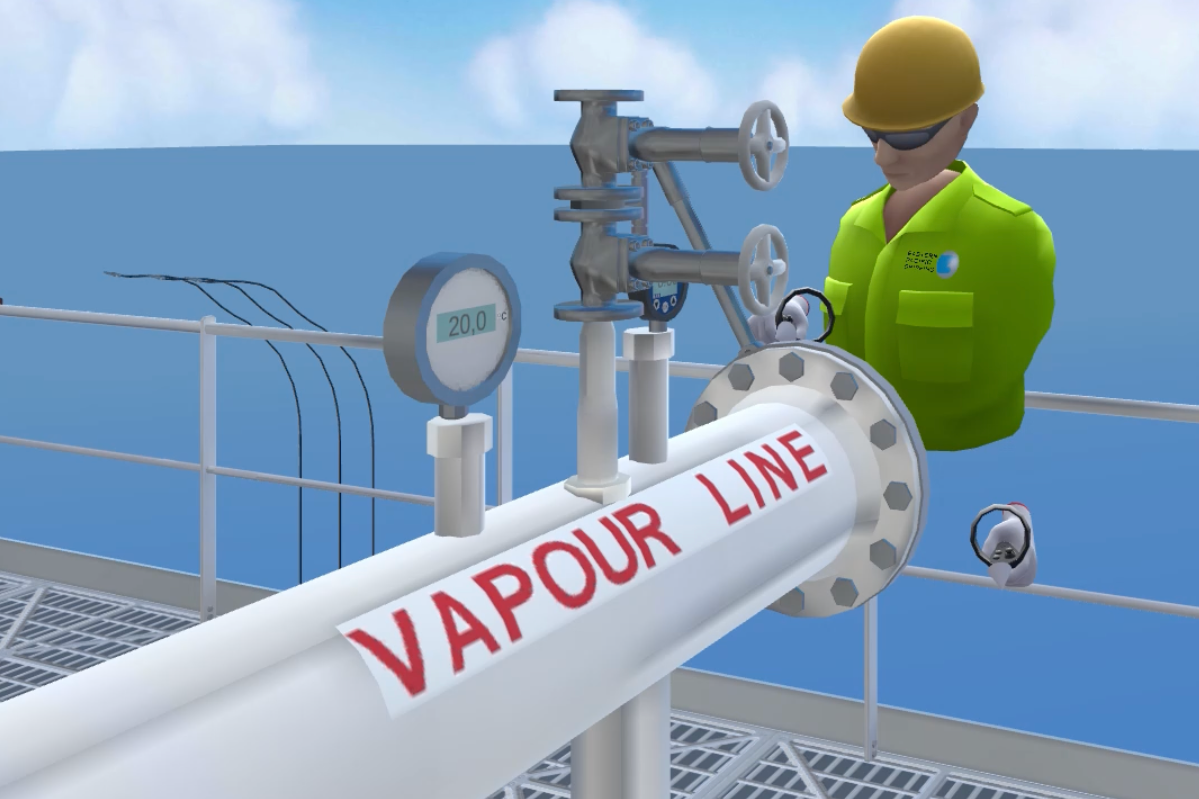 Eastern Pacific Shipping
Discover the complex training simulator used to replace physical simulators
Eastern Pacific Shipping
Thanks for staying
Where to next?